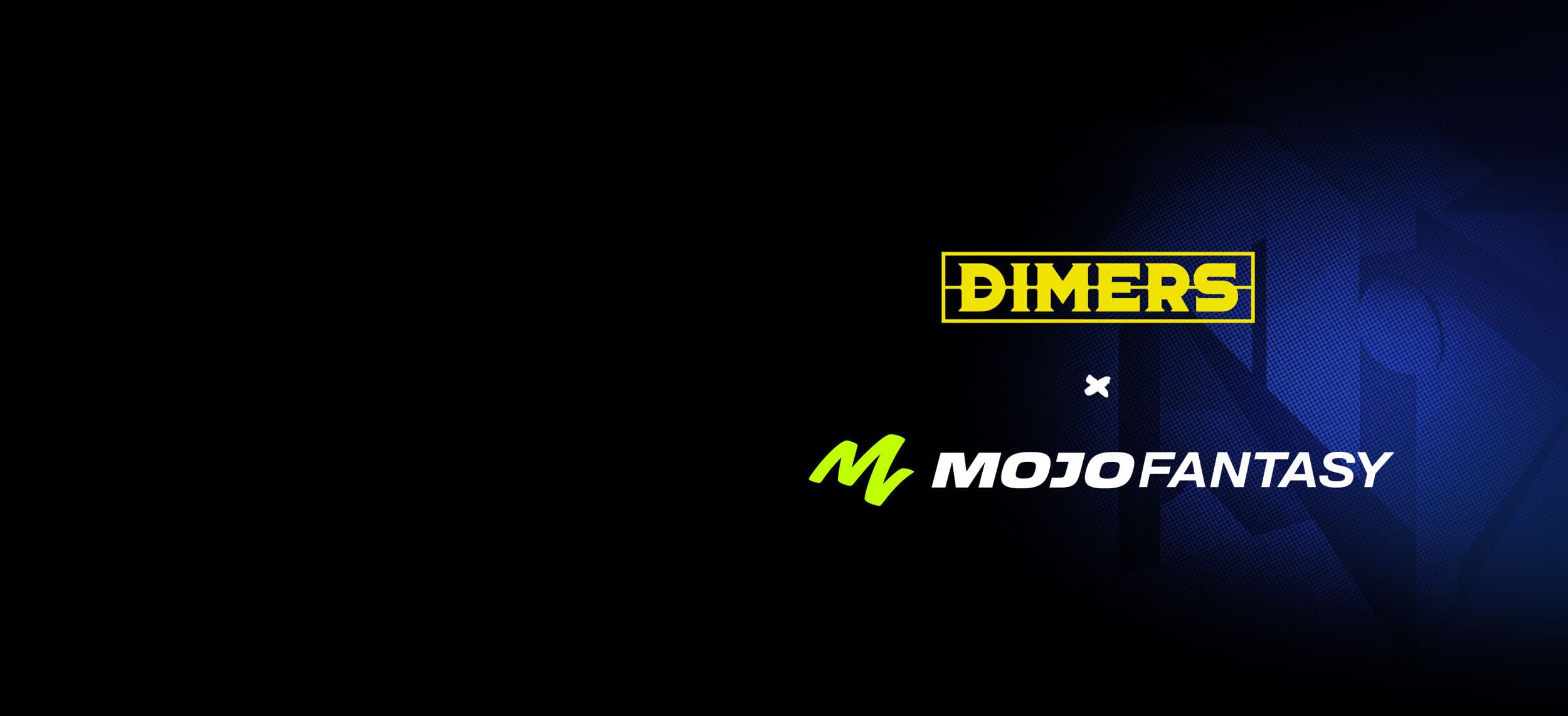 Dimers.com Partners with Mojo Fantasy to Bring Cutting-Edge Sports Predictions to Millions of Sports Fans Nationwide
September 14, 2023
Dimers.com, part of Cipher Sports Technology Group, is thrilled to announce its partnership with Mojo Fantasy, the groundbreaking Sports Stock Market fantasy product. This collaboration marks a significant milestone in the world of sports prediction and fantasy gaming, as Dimers.com joins forces with Mojo Fantasy to provide an unparalleled experience to sports enthusiasts across the United States.
Mojo Fantasy, a unique daily fantasy product from Mojo, is set to revolutionize the fantasy sports industry by merging the excitement of sports betting with the strategic skill of fantasy contests. Utilizing the same selection, odds, and cashout features as Mojo's licensed New Jersey sportsbook, Mojo Fantasy offers a thrilling second-screen experience that is now available in 20 states and territories across the country.
The Mojo Fantasy app is accessible to users in the following states and territories: Arkansas, California, Florida, Georgia, Illinois, Kansas, Minnesota, Nebraska, New Mexico, North Carolina, North Dakota, Oklahoma, Oregon, Rhode Island, South Dakota, Texas, Washington D.C., West Virginia, Wisconsin, and Wyoming.
What You Can Expect from Mojo Fantasy:
Sportsbook Thrills: Mojo Fantasy offers thousands of player props with real-time sportsbook odds, the ability to build multi-sport portfolios, and exclusive player props you won't find anywhere else.
Ultimate Control: Customers have unprecedented control over their picks, allowing them to buy low and sell high in real-time, and cash out to maximize gains or minimize losses.
Innovative Cash Prizes: The larger your portfolio grows, the bigger the prizes become. You can win real money by beating other contestants, even if you're not at the top of the leaderboard.
Vinit Bharara, Founder and CEO of Mojo, expressed his excitement about the partnership, saying, "Since launching nearly a year ago, there has been a pent-up demand outside New Jersey to play our live sportsbook. Today, the thrilling experience of playing Mojo is available to millions of sports fans across the country. Mojo Fantasy brings the unpredictable nature of sports to life through a fun and dynamic stock market experience with real-time odds and probabilities. It's the ultimate second-screen experience for Daily Fantasy players."
On Mojo Fantasy, every player prop functions like a stock, with dynamic probability-based pricing generated by Mojo's in-house trading engine. Unlike traditional sportsbooks, customers can buy and sell their picks instantly throughout the game and have the freedom to hold, trade, or cash out as the odds change.
Mojo, which initially launched as a regulated sportsbook in New Jersey in September 2022, has garnered over $100 million in funding from a diverse group of institutional and angel investors, including founding partners such as Alex Rodriguez, Marc Lore, Vinit Bharara, and Bart Stein, among others.
Mojo Fantasy offers two distinct contest types:
In The Green: Contestants finishing with a positive return are guaranteed a percentage of the winnings, with higher returns earning a larger share of the prize pool.
Double-Up: Finish better than half of the contestants and double your buy-in.
Mojo Fantasy is set to redefine the sports fantasy landscape, providing users with a dynamic and engaging platform that combines the best elements of sports betting and fantasy contests. Join Dimers.com and Mojo Fantasy in this exciting partnership as they bring sports prediction to new heights.
For more information about Dimers.com and Mojo Fantasy, visit Dimers.com and download the Mojo Fantasy app.
About Dimers.com
Dimers.com is a cutting-edge sports predictions platform that leverages the latest machine learning technology to accurately predict the outcomes of thousands of sporting events each year. With a focus on providing data-driven insights and sports betting tips, Dimers.com empowers sports fans to make informed decisions in their sports-related endeavors.
About Mojo Fantasy
Mojo Fantasy is a revolutionary daily fantasy product offered by Mojo, the Sports Stock Market. It combines the thrill of sports betting with the strategic skill of fantasy contests, offering real-time odds, player props, and dynamic pricing. Mojo Fantasy brings the excitement of live sportsbook experiences to millions of sports enthusiasts across the United States.